PUBLIC SHOWS IN NYC

at the BROADWAY COMEDY CLUB
318 West 53rd Street, New York, NY
Times Square Theatre District
Saturdays 8pm LMAO Off Broadway
Our signature show, LMAO by EIGHT IS NEVER ENOUGH has played off-Broadway, top clubs, theaters, colleges, and corporate / private events. The cast creates original skits and songs on the spot based on audience suggestions and participation.
$25 plus TWO drink minimum
CLICK HERE to check for online ticket calendar.
Click date/time of show for discount ticket purchase.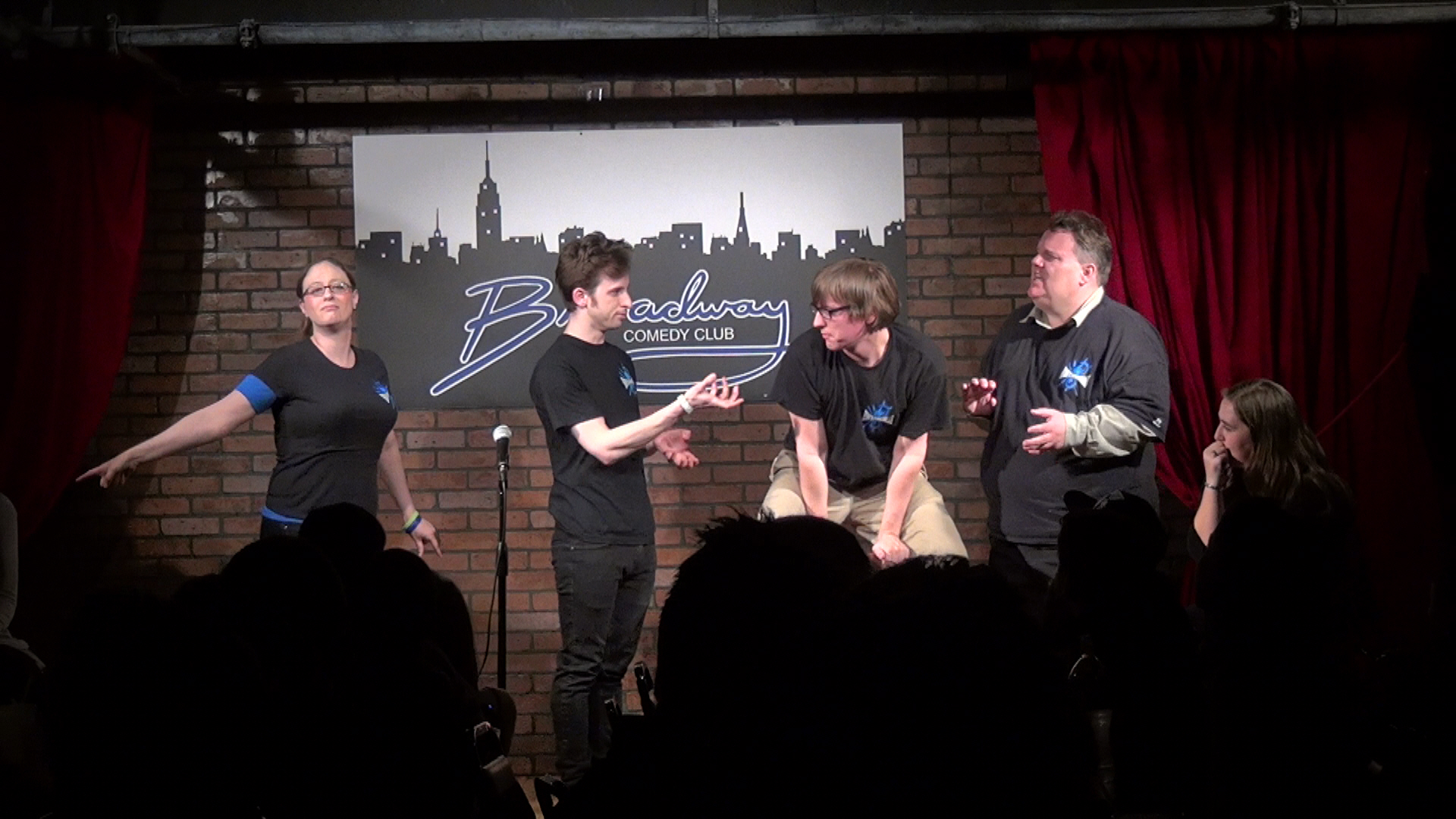 Saturday 3pm LMAO OFF Broadway Family Matinees
AKA Improv 4 Kids, this show is fun for the whole family. Same great show, same great cast, and same fun venue and this comedy can be enjoyed by all. Ages 4 and up need a ticket. $25 plus ONE drink minimum (Sodas, Juice and Bottled Water available for kids of all ages). CLICK HERE to check for online ticket calendar. Click date/time of show for discount ticket purchase.
VIP TICKETS to PROFESSIONAL SHOWS
We have reserved he best stage side seats for VIP guest. Premium seats and a beverage is included. NO ADDITIONAL PURCHASE REQUIRED for VIP guest. $45-60, CLICK HERE to RESERVE your SEATS
GROUP SALES & PRIVATE EVENTS
We add shows daily for group sales needs and private event requests. WE host everything from Kids Birthday Parties to After Prom High School groups to College groups to Holiday Parties. We have an amazing Corporate Team Building Program.  CALL Walt Frasier for more information, dates and rates. 212-568-6560
NYC COMEDY CLASSES for Kids, Teens and Adults
We have professional and student level classes in Improv, Stand-Up and more. WE host at the Broadway Comedy Club and other studios around town. Also our teachers run programs at schools, camps and community centers all over tri-state area
NEW YORK IMPROV THEATER SHOWCASES
WE host daily showcases for NYC Improv Teams and guests in our city.  More info at www.nyit.club. CLICK HERE for express event and ticketing calendar with built in discount code "NYIT"
K-12 OUTREACH
Improv 4 Kids
Improv 4 Teens
ON TOUR
Theaters
Clubs
Colleges
Corporate Events
Private Events
K-12 Outreach
Improv Comedy is a very versatile art form that can be presented in just about any event. Our shows have played Broadway Size mega theaters up to 1500+ seats as well as large hotel Ball Rooms. Conversely the show works perfectly at intimate clubs, student activities event spaces, hotel lounges, restaurants and even private homes.
We can turn any space into a comedy club. Or with simple sound help (wireless lapel microphones) the otherwise intimate show becomes an inexpensive alternative to Broadway Shows, like so many off-Broadway revues ("Forever Plaid", "I Love You, You're Perfect, Now Change!" or "Forbidden Broadway"). Only Improv comedy usually appeals to both the Off Broadway crowd and a younger comedy crowd.
Best part about Improv for a presenter / event planner, there is far less overhead than a scripted show. Lack of props, sets and script removes 1000s in royalties and set up staff needs. In many cases you just have to turn on the lights and we are ready to go. And we bring you actors from TV, Film and Broadway at a fraction of the cost
.